Wow! 2005 already! I can't hardly believe how quickly this past year has flown by. What a year too. In some respects I'm glad to see it go, in other ways, it was one of the greatest years of my life and wouldn't trade it for anything. It's the year that Michelle and I were introduced after all, and she is the best thing that's ever happened to me. Here's a photograph of the two of us last July the Fourth, just sitting down to watch the fireworks overhead.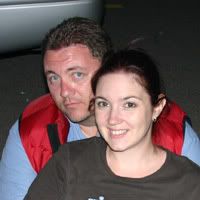 She's an Australian girl, transplanted to the "wilds of America", and I LOVE HER!!! I'm not letting this one get away. ;)
Well, Happy New Year! We're off to goof off for half the day and continue boxing up our lives for the big move the rest of the day. Have I told you before how much I HATE to move? I can't stress that enough. Life will be soooo less hectic after we've both situated ourselves again.